Kofe Club Collection

Client: Kofe Club / Coca Design Studio

2015 -2016



Kofe Club Collection
Project Overview

Formed using locally-sourced, reclaimed lumber and steel, the Kofe Club Collection encapsulates a set of furnishings and fixtures specifically developed for urban consumers in Nigeria. Motivated by the Nigerian government's ban on furniture imports, the collection explores the small-scale manufacturing capabilities available in Nigeria. In particular, the collection investigates the limitations of the available resources and production facilities, and reevaluates these limitations through design. With affordability and sustainability at the heart of its ethos, the Kofe Club Collection attempts to demonstrate the positive potential for a uniquely Nigerian perspective on furniture design.


Project Details 



The original idea for the collection was to create minimalist, functional, and affordable furnishings and fixtures for the 'Kofe Club', a coffee shop based in Lagos. As a way of creating an ambience of quiet comfort within the shop, the Kofe Club required pieces that its customers could imagine being used in their homes.

The design intent of the Kofe Club Collection was then reinterpreted to investigate the possibility of an affordable, readymade furniture collection designed for urban Nigerians. Taking into consideration the nascency of furniture manufacturing in Nigeria (as characterized by limited locally-available materials and fabrication techniques) extensive research was conducted to determine the locally-available manufacturing techniques, processes and materials that would influence the design and production of the collection. 

This research process helped form a design ethos focused on stripping away the unnecessary without compromising comfort and functionality. The cornerstone of the collection, the café chair, acted as the test bed of the design identity and the explored manufacturing processes, resulting in a relaxed design focus on simple shapes and silhouettes. The design direction was then translated to each product, giving each piece a unique identity, while still offering a cohesive direction to the overall collection.

The main materials used in the collection are reclaimed lumber and steel, all locally sourced from the Bariga Saw Mill and manufactured in Yaba, Lagos. The exposed uneven grains and nail marks from the reclaimed lumbar gives each piece a unique character.
The production of the collection primarily relied on simple manufacturing techniques such as wood turning, bending and welding – no CNC mills were used in production. The bending & welding of the metal components proved to be a particular challenge as few fabricators and factories have access to the tools and expertise needed for metal fabrications. The metal pieces were consequently bent in a local metal market (Owode Onirin) using manual, hand-bending tools.
The minute imperfections resulting from these simple production techniques and the character of the reclaimed lumber thus became a central component of the design, highlighting the uniqueness of each piece, as opposed to imposing a rigid sense of uniformity by trying to hide the "flaws."


As a final consideration, each piece in the collection was designed ready-to-assemble using a standard screwdriver, making it easy to transport and store as needed.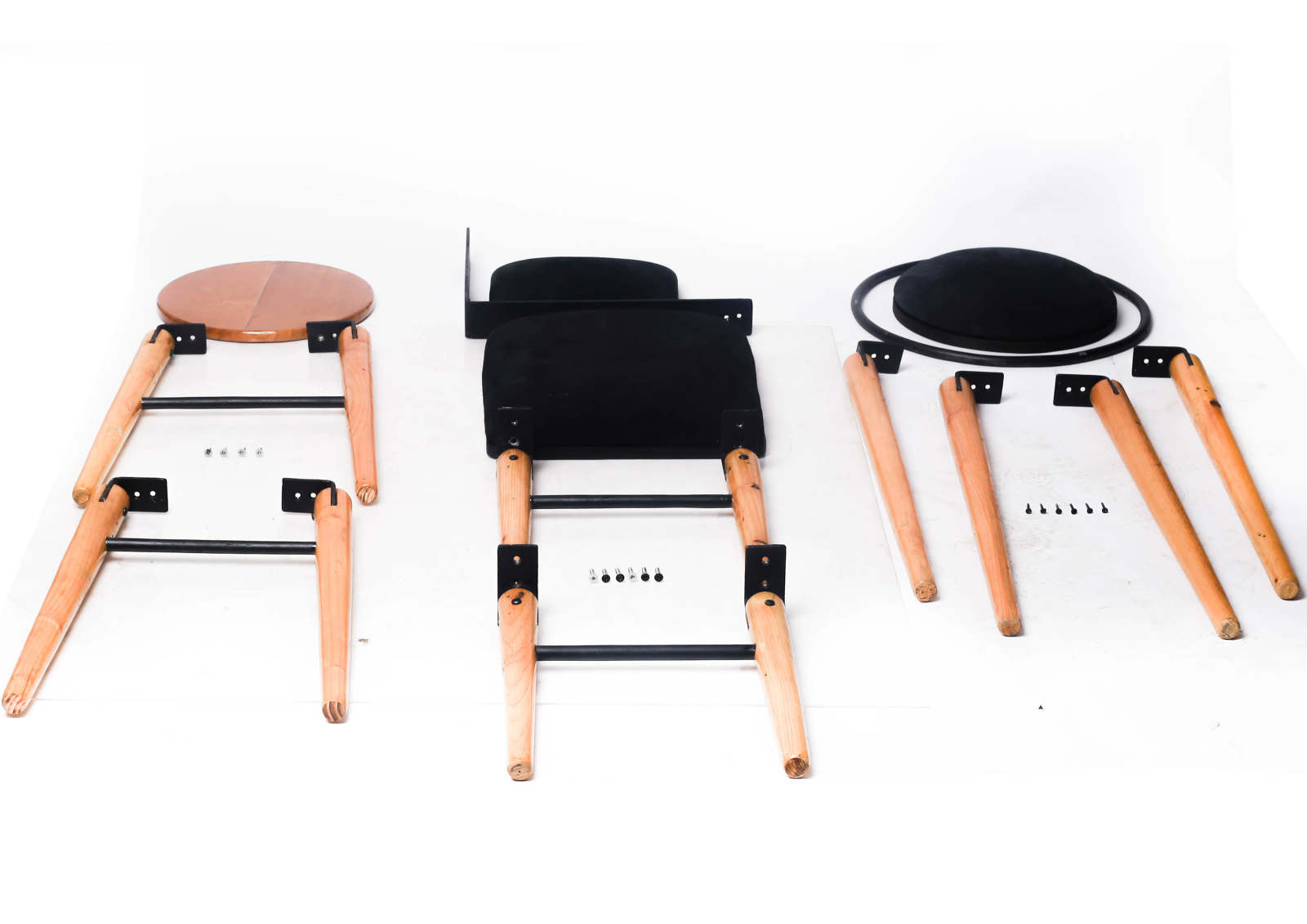 Copyright© nmbello Studio, 2019