At nmbello Studio, we are always exploring intuitive, innovative and creative design solutions present in everyday life! Understanding how products are made, used and their benefits. Our case studies focus on products that have been made to solve a particular problem, create economic viability and are well designed without having the "design" label on them.
____________________
KWALI
Kwali is a portable, hand-held convenience store used by hawkers to sell confectioneries in heavy traffic around Nigeria. Made out of recycled cardboard and Styrofoam, Kwali is extremely sustainable, lightweight and easy to use. Mostly used by northers who have migrated to Lagos in search of jobs and opportunity, it also acts as a great start to venture into a new business, as it is extremely affordable to purchase and can be customized to hold as many items as they are looking to sell.
Kwali from nmbello Studio on Vimeo.
Designer: Unknown
Production Cost: =N= 100.00 ($0.28)
Retail price: =N= 500.00 ($1.38)
Materials: Cardboard, Styrofoam, Sealing tape
Users: Street Hawkers
Beneficiaries: Commuters, Drivers and Pedestrians

MERUWA
Meruwa (Truck) is a cart used to transport water from a central water source in urban areas in Lagos, Nigeria. It comes in two sizes, transporting ten or fourteen, 25 litres plastic kegs fitted perfectly in a metal cart. Meruwa acts as a necessity for a water supply system in Lagos that hasn't been able to reach every household or urban area in Lagos, with the vendors supplying households, businesses and in some cases healthcare facilities. The Water vendors and Meruwa have become a necessary part of Lagos and can be seen pushed on the side of the road or weaving through Lagos traffic.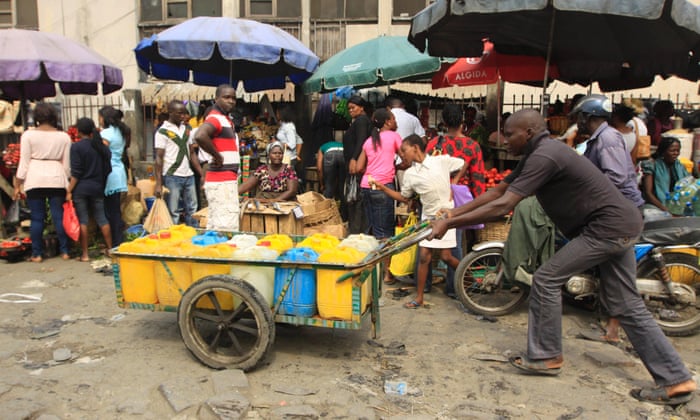 Designer: Unknown
Production Cost: =N= 60,000 ($157)
Materials: Tubular Steel, Sheet Metal, 25 Litre Plastic Kegs
Users: Water Vendors
Beneficiaries: Households, Busniensses and other types facilities